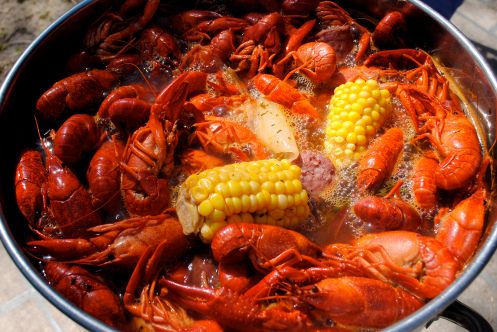 THANK YOU FOR A VERY SUCCESSFUL CRAWFISH BOIL!!
The crawfish and all the trimmings were superb! The beer and soft drinks were ice cold! Unfortunately, our luck ran out on great weather this year, so we were forced to change our location and move indoors. Then, we had a power outage that had everyone eating in the dark!! But hey, you think that's going to keep us from having a good time?? NO WAY!!

THANKS GO OUT TO:

The Al Chymia Shriners for allowing us to use their building as an alternative to our usual outdoor location.

Brett Fontenot and his crew for the superb spicy boiled crawfish and all the fixin's.

Everyone who brought snacks and treats to munch on. We had a great response!!

Amy Parrino from the National Alumni Association who joined us.

Joel Benson for the tasty boudin balls.

Everyone who helped with the planning and execution of this event.

SEE YOU AGAIN NEXT YEAR!!!