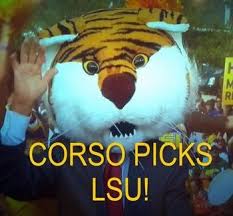 VIEWING PARTY THIS WEEK!!
This week is the first SEC contest for our 2-0 Tigers as they face Auburn. Auburn is one of many highly ranked opponents that the Tigers face this year, and we're getting together to cheer them on to victory!! Don't sit at home and watch the game by yourself and PLEASE don't go to a bar and spend $10 for each beer and fight to get a spot in front of a TV way over there!!

ENOUGH OF THAT!!

Come watch the game with your LSU "peeps"!! You'll have more fun, be around folks that are on YOUR side, and spend far less in the process!! All the details are listed below:

WHEN:
Saturday, September 15th
Doors open at 2 pm (Game kick-off around 2:30 pm)

WHERE:
1928 Wood Oak Dr., Cordova, TN. 38016
Home of Karen & Kevin Koelemay
Use your GPS or call Kevin for directions (901-361-4302).

GENERAL:
BYOB. Most set-ups provided.
If you can, bring a snack item for munching. If you can't don't sweat it. There will be plenty!

Wear your best "game day" attire, so we know whose side you're on!!
SEE YOU THERE!! GEAUX TIGERS!!