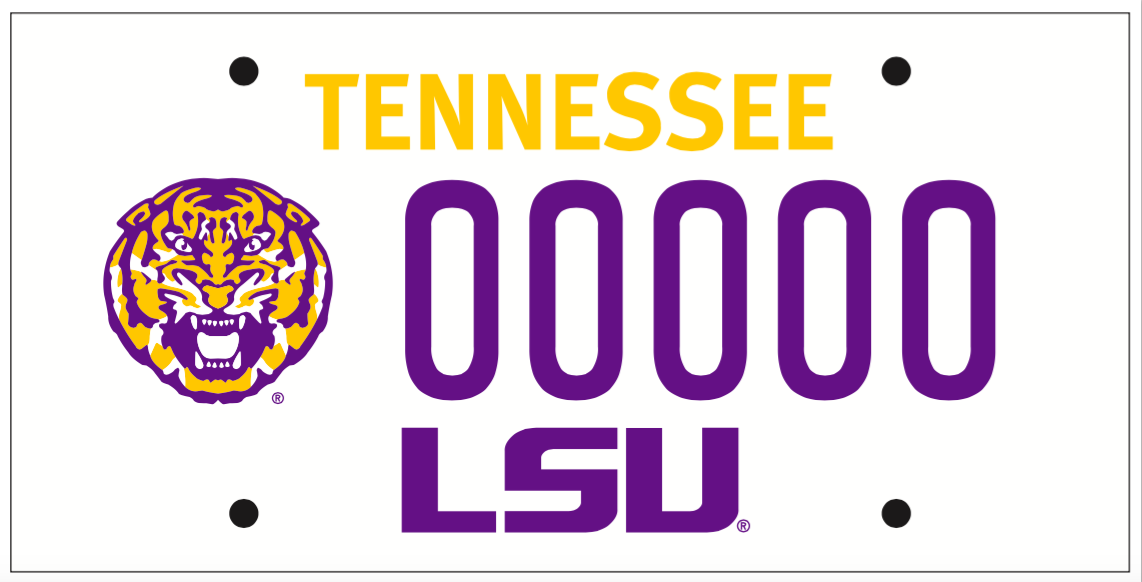 Tennessee LSU Specialty License Plate Campaign!!
The LSU Alumni group in Nashville is spearheading a renewed effort to make an LSU Specialty License Plate a reality, and YOU can help!! The Tennessee legislature has passed a bill that authorizes the creation of an LSU plate, but in order to get it done, we need to gather 1,000 commitments from LSU fans across the state. We are asking ALL LSU fans in the Memphis area to support this effort!! To pre-order your LSU plate, please go to the website for the Nashville LSU Alumni chapter which is:

www.lsumusiccity.com

When you get to the website, click on the "Specialty Plate" tab in the top right hand corner. There you will find where you can complete an online form to pre-order an LSU plate for your car or truck. Once you have completed the online form, mail your check for $35.00 to the address on the form. Just be sure that the name on the check is the same name you used when filling out the form.

IMPORTANT NOTE: If you need more than one plate for multiple vehicles, you will need to fill out a form for EACH VEHICLE (at $35.00 each), but you only need to send in ONE CHECK. Got it?

When you send in your check, you will receive a confirmation email. Courtney Johnston, the president of the Nashville chapter is going to HOLD all of the checks until the sufficient number has been raised. She will then send you an email advising you that she is going to process your check. The State of Tennessee will then advise you when your plate is ready and how to receive it.

If we do not obtain enough applications by June 2019, you will receive an email advising you of this, and your check will be destroyed.

PLEASE HELP US REACH OUR GOAL!! APPLY FOR YOUR LSU LICENSE PLATE TODAY!! (IF NOT SOONER!!)

THANK YOU!!