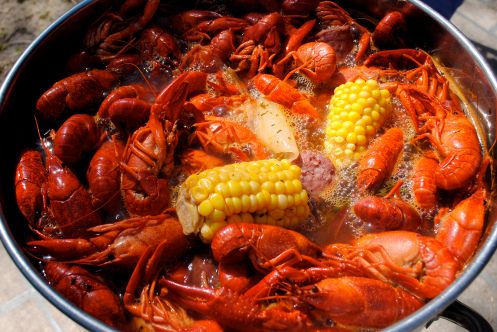 **ONLINE TICKET SALES HAVE ENDED.**
After a 2-year absence due to Covid-19, the LSU Alumni Crawfish Boil is BACK!!

That's the good news. Unfortunately, we have a little problem. The price of crawfish this year is HIGH! Significantly higher than in years past. Which presents us with some difficult choices. Option 1: just don't have a crawfish boil. Not really a great choice if you haven't had one in 2 years. Option 2: we have a crawfish boil and make some changes. We decided on Option #2. We hope you agree!!

First, here's what we DIDN'T CHANGE. It's still an "All you care to eat" event. We could say, "Here's your one tray of crawfish. No more for you!" like the Soup Nazi. But we've never done it that way, and we don't want to start now. And we're cooking only premium Louisiana crawfish, not those cheap, crappy imported mudbugs. Not going there either!

So we're going to have to raise the price, but to keep things more reasonable, we're making this year's event BYOB. That's right...BRING YOUR OWN BEVERAGE! Every year we have some people say, "Hey! Why can't you have MY favorite beer or soda? Why are you giving us this "Brand X" stuff?" Everyone has their favorite beer or soda, so it's hard to satisfy everyone. Every year, I see some folks bringing their favorite wine or whiskey. So this year, YOU bring the beverage that YOU like to drink with your delicious, spicy boiled crawfish.
**NOTE: Bottled water will be provided.**

Second, if you join or renew your membership with the LSU Memphis Alumni & Fans group, we'll give you a discount on each ticket! Dues are only $25 per year. Also, buy 4 or more tickets in a single transaction, and save an additional $5 per ticket!! So bring the family, grandma & grandpa, or some friends and enjoy a spring afternoon as we bring a taste of Louisiana to Memphis. You won't be sorry and you won't leave hungry either! We also have Youth tickets (Age 12-17) and kids under 12 are FREE!

ALSO, PLEASE GIVE US YOUR MOBILE PHONE NUMBER WHEN YOU BUY YOUR TICKETS!! This is an outdoor event, and in the event that we need to make last minute changes due to weather, we'll need to text you updates. Remember 2019?? Thanks for your cooperation!

Remember...ALL proceeds go to our Scholarship Fund for local students going to LSU! After 2 years of being locked down, we really appreciate your support!!

NOTICE: ONLINE TICKETS SALES HAVE ENDED.